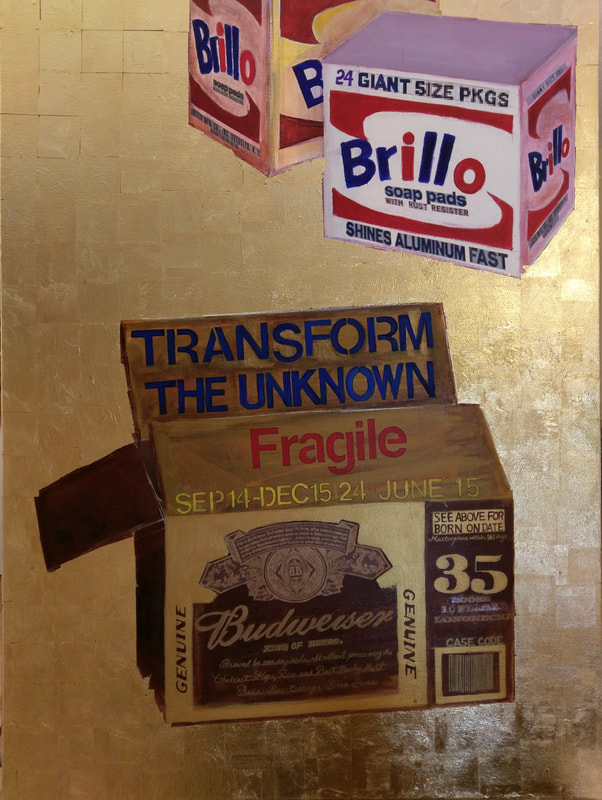 Transform the Unknown: If Danh Vo Were Warhol, oil and collage on canvas, 2017.
This work intends to connect a contemporary art event, a lawsuit between artist Danh Vo and collector Bert Kreuk to a work by American pop artist Andy Warhol. It explores the mystery, misconceptions, and the myths in the contemporary art world.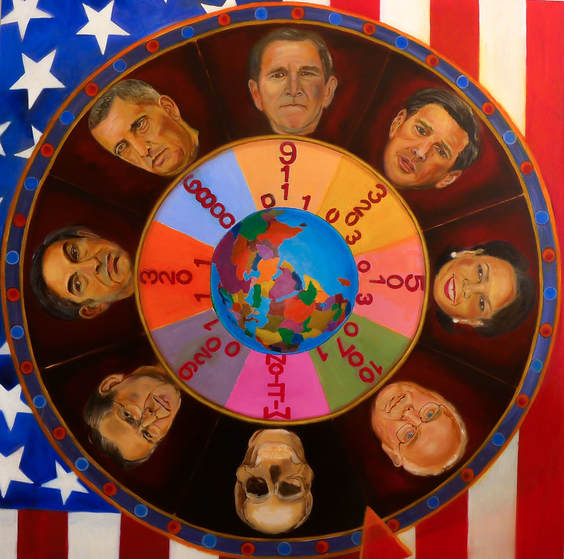 Spin to Win, oil on canvas, 48" x 48", 2015.
I painted this work with the idea of creating a historic document through the visual form. The work is intended to reflect on the more than a decade of "War on Terror" which seems to bring more terrors and chaos to the world. As an artist, I frequently feel the limited ability to deal with human tragedy but only wish to offer reflection and discussion through my work.
The wheel consists of faces of former presdent George W. Bush and his cabinet members. The skull is a reference of the death and diaspora of millions of innocent people. The numbers in the painting indicate important dates related to the "War on Terror" such as September 11, 2001 and March 20, 2003, the date that Iraq War begins.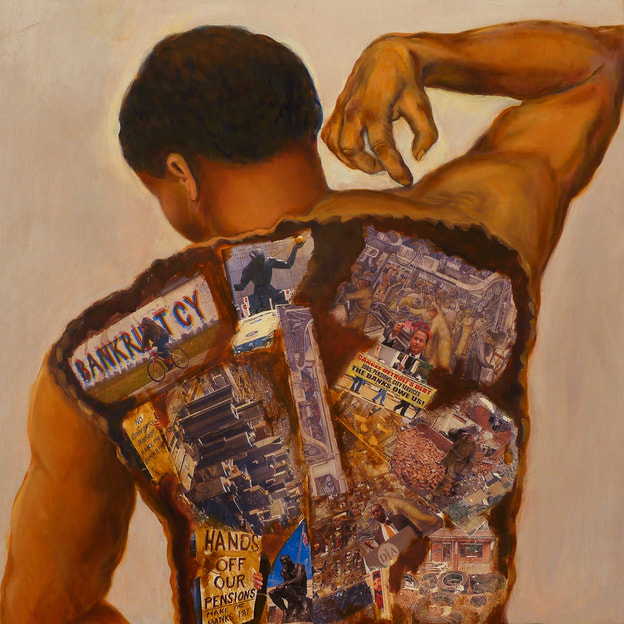 Hands Off My Money. oil and collage on canvas, 36"x 36", 2015.
The image tells the saga of the bankruptcy of the city of Detroit. The painting comments on the cause and effect of the Detroit bankruptcy. In order to pay off Detroit's debts, the city contemplated selling off artworks from Detroit Institute of Art (DIA) and reduced city employees' pensions. I painted and included the images of city workers' protest, art works from DIA, and the desolate sections of the city. The painting also expresses the divide between the rich and the poor in the City.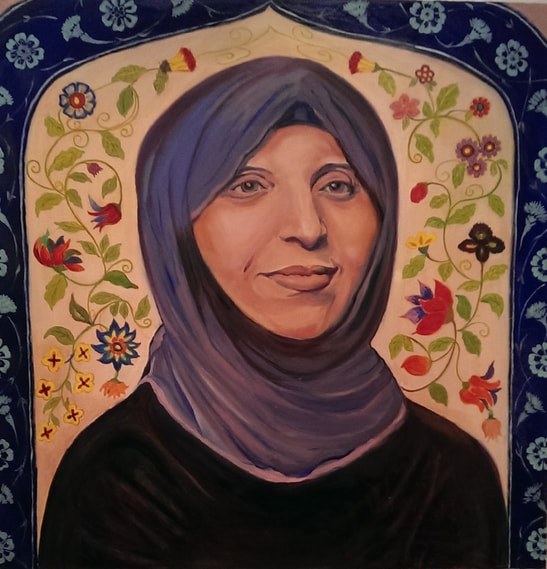 Samira Salih al-Nuaimi, oil on canvas, 36" x 36", 2015.
Samira Salih al-Nuaimi, an Iraqi civil right lawyer who critized the destruction of historic sites by the ISIS. She was taken from her home by the ISIS miltia and later tortured and murdered by her capturers. The picture memorizes this civil right lawyer and honors her tremendous courage. The background is decorated with a "tree of life" design to celebrate her everlasting life.
---